Selected Sample Coaching Engagements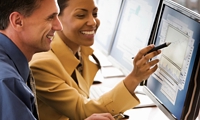 Rita's coaching engagements have included leaders and teams from a variety of industries and disciplines including biotechnology, pharmaceuticals, medical devices, high technology, healthcare, insurance providers, financial services, services, higher education, professional services, manufacturing as well as consumer products and retail.
A few of her sample engagements have included the following:
Executive Leadership Development

Worked with the Senior Leadership Team of a Start-up Biotechnology company with a focus on the transformation to a more proactive and strategic leadership approach. Identified greater sense of self-awareness, effective conflict management techniques, communication skills, and strategies for building high performance work teams within their functional and technical areas resulting in greater impact individually and as a team.

Executive Coaching and Development

Coached the female Sr. Legal Director of a large leading Insurance Service Provider who was looking to develop more impactful communications skills and executive presence as she engaged in increasingly complex presentations and executive visibility. Worked with leader to heighten self awareness and insight of her strengths, development areas, opportunities to be seized and potential obstacles. Resulting outcomes included recognition in organization as a valued content expert and sought after in a variety of ways that exhibited her value-add to the members of the C-Suite as well as throughout the organization and externally within the industry.

Executive Team Development

Worked with the Senior Human Resources Leadership Team of a large, multi-location Healthcare organization providing team and individual coaching and development during a time of much change, restructuring and acquisition. Facilitated and led a corporate-wide strategic planning effort for members of the senior leadership team around defining and consolidating corporate goals, functional goals, individual entity goals, and team goals into one set of common goals which was proceeded with the development and delivery of a communications strategy and campaign to present these goals to the rest of the human resources organization. This team development was followed by individual Executive Coaching with several members of the human resources leadership team to identify specific areas of individual development and the creation and execution of development plans to enhance their individual leadership skills.

Executive Career Planning and Development

Worked with a male Senior Partner of a leading Financial/Professional Services firm who was ready to transition to a Corporate CFO role. The coaching focused on self-assessment and exploration, career development and planning, goal setting and execution, as well as assessing values and strategic alignment. Helped individual recognize the appropriate role, industry, culture and environment that met his needs and aspirations which he ended up finding. Assisted the executive to empower himself to take charge of his career by providing tools, resources and appropriate techniques for on-going career planning.

Executive Cross-Cultural Awareness and Effectiveness

Worked with female Senior Marketing Leader of a large major Medical Device/Pharmaceutical organization looking to enhance her cross-functional leadership skills with remote teams located in China and Brazil. Developed skills in the areas of communications, conflict management and emotional intelligence to provide greater impact on individual performance and team results. Greater self awareness achieved as well as the ability to effectively understand, appreciate and embrace cultural differences.

Executive On-Boarding

Worked with a Senior Technology Executive transitioning out of a role as a COO for several years within a fast-growing High Technology company to an entrepreneurial role within a consulting firm. Supported client in identifying strengths to leverage and capitalize as well as challenges to anticipate within transition. Enabled client to create and implement on-boarding strategy with due diligence, specific action items and milestones achieved.

Leadership and Team Development

Worked with a male Senior Director of Admissions within a Higher Education Institution to further enhance his leadership skills as he developed his team within a time of major change at the college. Provided one-on-one coaching to assist director to grow and push in new ways as well as conducted thorough needs assessment with team to determine areas of focus for team building. Designed, developed and delivered training initiatives resulting in effectively functioning as a high performing work team.

Strategic Leadership

Worked with a female Scientist within a Biotechnology organization as an Executive Director looking to move away from a heavy research focus to one of more business strategy, both from an individual and team leadership perspectives. Provided tools, strategies, techniques and support to leader allowing her to use new approaches and shift her mindset to one of achieving results not only through technology and research but through people.