Rita's Discussion Series
'Getting Comfortable Being Uncomfortable'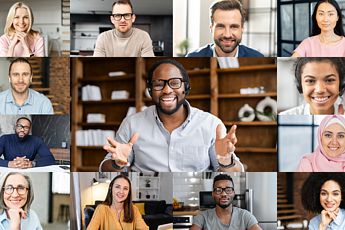 The last couple of years have presented many challenges as well as opportunities. We have pushed in new ways, established new norms, and continue to build resilience. As a result, I felt the need to create this series in 2020. During challenging times, I believe it's important to stay connected, share stories, be a resource to one another, give back and enhance our networks. No power points or formal presentations, but an opportunity to hear personal stories of growth, inspiration and learning, share best practices and spark dialogue on important topics. With that purpose in mind, I am continuing this series on a quarterly basis and invite you to join me in a virtual discussion with several accomplished leaders.
"Amazing!! I can't say enough for the insight - comments - panelists... wow...so grateful that I found these sessions!!!!"
Please register here for my first one-on-one interview.
The Impact of Diversity, Equity, Inclusion and Belonging in the Workplace June 16th, 8:00 - 9:00 AM
Studies have indicated that diverse organizations are not only more likely to have higher performance, innovation and profitability but also result in increased engagement and retention. Leadership models the way with intentionality to create and cultivate a culture of inclusion and belonging through their behaviors and actions, not only their words. As a result, diverse workplaces that are inclusive earn credibility and trust by their team members. These organizations surpass their competitors as they embrace and appreciate the individuality of each employee in addressing their viewpoints, needs and capabilities. One such organization is Eastern Bank, a long-time leader in Boston offering banking, investments, and insurance services with a steadfast commitment to their employees, customers and the community.
I'm very excited to invite you to the first one-on-one interview with:

Kathleen C. Henry
General Counsel, Corporate Secretary and Chief Human Resources Officer at Eastern Bank
Join me for an in-depth discussion with Kathleen to hear about Eastern Bank's focus on DEI&B and the impact it has had on their culture and success.
Our Previous Discussion Series
THE GREAT RESIGNATION - March 2022
The recent pace and volume of employment changes has been described as a global phenomenon referred to as The Great Resignation. Many people are re-evaluating their career choices and leaving their jobs in record numbers at a time when the job market is offering many opportunities and options. After much uncertainty, stress and pressure of the last two years, many are searching for new possibilities better aligned with their personal and professional goals. Hear perspectives, experiences and effective strategies to address this phenomenon from a panel of distinguished leaders' within a variety of industries.
Daniel Benson
Director of Talent Acquisition at New Balance
Morenike Eastman
Assistant Director, Employer Engagement at the Boston College Career Center
Amina Lobban
Director, Head of HR Business Excellence, Global Manufacturing, Supply & Quality at Takeda
Lisa Wyman
Senior Vice President Technical Operations at Acceleron Pharma, a wholly-owned subsidiary of Merck Sharp & Dohme Corp
Watch the video
What people said about THE GREAT RESIGNATION
"This was fantastic, very useful and great insights! Thank you all!"

"Amazing stories…could also be a panel on resilience."

"Thank you - I found value in hearing from professionals about their current experiences on this important topic."
JOB SEARCHING REMOTELY - December 2021
The current marketplace is not only active but highly competitive. In addition to the high demand for talent, we are working with new staffing practices that have transitioned the recruitment process to mostly virtual. We are searching, networking, recruiting and interviewing remotely requiring a new set of norms and strategies to be effective. Hear perspectives and emerging trends from a panel of distinguished leaders within the search industry.
Watch the video
What people said about JOB SEARCHING REMOTELY
"Excellent session. It was so informative, authentic, and helpful."

"Wonderful discussion… All of the speakers were relevant and impressive."
CAREER CLARITY - September 2021
In Partnership with The Harvard Club of Boston
We continue to navigate a new world with new norms and different work models, especially as we start to transition back to the worksite. Organizations are rethinking how they attract, engage and retain talent. Individuals are rethinking how they work, where they work and what kind of work they value. Hear perspectives and lessons learned from a panel of distinguished leaders.
Jodi Detjen
Associate Professor of Practice, MBA Program Director, Suffolk University
Jillian McGrath
Senior Vice President at UBS
Harvard Club of Boston Board Member
K. Chris Min, MD PhD
Biotechnology / Pharma CMO or VP of Clinical Development
Harvard Club of Boston member
Oswald Mondejar
Senior Vice President of Mission and Advocacy, Partners Continuing Care at Spaulding Rehabilitation Network
Watch the video
What people said about CAREER CLARITY
"This was such an honest, inspiring conversation. Thanks so much, Rita and the whole panel!"

"Thank you for another wonderful panel discussion. These make me feel less alone in my thoughts! What a powerhouse of guest panelists!"
DRIVING AND LEADING CHANGE - June 2021
Lessons learned and effective strategies to manage and impact change with a panel of distinguished leaders:
Robin Antonellis
Executive Director at New England Employee Benefits Council
Pam Carroll, Ph.D
President of Silicon Therapeutics
Lina Gallotto
President of Barton Healthcare Staffing and Executive Vice President of Barton Associates
Jamie Graceffa
Chief Learning Officer and Global Head of Learning, Talent Management, Inclusion and Diversity at Perkin Elmer
Watch the video
What people said about LANDING AND STARTING A NEW JOB VIRTUALLY
"Thanks for this robust event, and appreciated the perspective of the panelists. All modeling the spirit of IWD!"

"Great points…good conversation….making me think."

"Wonderful session - great ideas and suggestions….I am energized."
LANDING AND STARTING A NEW JOB VIRTUALLY - March 2021
Personal stories, lessons learned and effective strategies for searching and on-boarding in a new job virtually, with a panel of distinguished leaders:
Alison Blackburn
Director, Human Resources Business Partner at Tufts Health Plan
Elaine Chen
Cummings Family Professor of the Practice in Entrepreneurship and Director, Tufts Entrepreneurship Center
Kate Cox
Senior Director of Client Relations at Bright Horizons
Deniz Razon
Chief Business Officer at Servier Pharmaceuticals
Watch the video
What people said about LANDING AND STARTING A NEW JOB VIRTUALLY
"Thanks for this robust event, and appreciated the perspective of the panelists. All modeling the spirit of IWD!"

"Great points…good conversation….making me think."

"Wonderful session - great ideas and suggestions….I am energized."
EMOTIONAL INTELLIGENCE - December 2020
Build awareness of triggers, practice self-care, compassion and empathy during challenging times with a panel of influential leaders:
Derek Depelteau
Global Head of Study Management at Merck KGaA
Gillian Meek
Former President at KEDS USA
Valerie Murray
Head of HR, Enterprise Cybersecurity and Cloud Computing at Fidelity Investments
Chelse Prejean
Process Safety Manager at Cabot Corporation
Watch the video
What people said about EMOTIONAL INTELLIGENCE
"Thank you for a wonderful program and impressive panel - love hearing the message about the value of positivity and optimism; and the wisdom of stopping to think before speaking, particularly in a difficult situation."

"Thank you so much for sharing and leading this amazing panel on emotional intelligence. It was so insightful and inspiring especially reinforcing the power of gratitude, one of the silver linings of this year!"
PERSONAL BRANDING - November 2020
Stay true to self and enhance personal brand in a virtual world with a panel of esteemed leaders across a variety of career journeys:
Jillian T. Allen, RD
RDN Research Fellow, United States Army and Whole Balanced Nutrition
Patricia Cotter, Ed.D
Executive Director at MIT's Martin Trust Center for Entrepreneurship
Debbie Gustafson
CEO at Energetiq
Nicole Stern
VP of Design at EverQuote
Watch the video
What people said about PERSONAL BRANDING
"Thank you for the sharing and inspiration for us to strengthen our personal brands. Being authentic and being comfortable with being uncomfortable!"

"What a wonderfully honest, inspiring conversation, Rita! Thanks for putting together such a great panel."
RACIAL EQUITY - October 2020
Opportunities for building awareness of biases and unlearning established behaviors with a panel of highly respected experts:
Romina Bongiovanni
Head of Global Communications at New Balance
Juliette Mayers
President and CEO of Inspiration Zone LLC
Ann Moritz
Principal of Moritz Advisory Group
Shilpa Pherwani
CEO and Principal of IBIS Consulting
Watch the video
What people said about RACIAL EQUITY
"You have all inspired me- great content and thoughts!"

"Thank you - grateful to have joined. Amazing hour!"
RESILIENCE DURING COVID-19 - September 2020
Personal stories of growth and inspiration with a panel of distinguished leaders:
Laurie Halloran
President and CEO of Halloran Consulting Group
Dara Lee Lewis, MD
Physician at Lown Cardiovascular Group and Brigham & Women's Hospital
Ilhiana Rojas
Chief Development Officer at ALPFA Boston and CEO of BeLIVE Coaching & Consulting
Leigh J. Tucker, CPA
Principal, Nonprofit at CLA
Watch the video
What people said about RESILIENCE DURING COVID-19
"What a wonderful way to start the day - with words of wisdom and encouragement. Thank you Rita and panelists!"

"The webinar this morning was high quality, a great selection of speakers, and huge insights. So many of the stories they shared were applicable to my own life; taking time to think through how all these transitions are affecting us was very valuable. Congratulations on a high value event."